real time clock, 16KBIT, 5V, 24-DIP, 1 W, M48T02-150PC1, STMicroelectronics
M48T02-150PC1 absolute maximum ratings: (1)TA, Ambient Operating Temperature: 0 to 70℃; (2)TSTG, Storage Temperature (VCC Off, Oscillator Off): –40 to 85℃; (3)TSLD, Lead Solder Temperature for 10 seconds: 260℃; (4)VIO, Input or Output Voltages: –0.3 to 7 V; (5)VCC, Supply Voltage: –0.3 to 7 V; (6)IO, Output Current: 20 mA; (7)PD, Power Dissipation: 1 W.
M48T02-150PC1 features: (1)integrated, ultra low power sram, real time clock, and power-fail control circuit; (2)bytewide ram-like clock access; (3)bcd coded year, month, day, date, hours, minutes, and seconds; (4)typical clock accuracy of ±1 minute a month, at 25℃; (5)software controlled clock calibration for high accuracy applications; (6)automatic power-fail chip deselect and write protection; (7)write protect voltages (VPFD = Power-fail Deselect Voltage): VCC = 4.75 to 5.5V; 4.5V ≤ VPFD ≤ 4.75V; (8)Self-contained battery and crystal in the cap hat DIP package; (9)pin and function compatible with jedec standard 2K x8 SRAMs; (10)RoHS compliance: Lead-free second level interconnect.
The M48T02-150PC1 is a 2Kb x 8 non-volatile static RAM and real time clock which is pin and functional compatible with the DS1642. A special 24-pin, 600mil DIP cap hat package houses the M48T02-150PC1 silicon with a quartz crystal and a long life lithium button cell to form a highly integrated battery backed-up memory and real time clock solution. The M48T02-150PC1 button cell has sufficient capacity and storage life to maintain data and clock functionality for an accumulated time period of at least 10 years in the absence of power over the operating temperature range.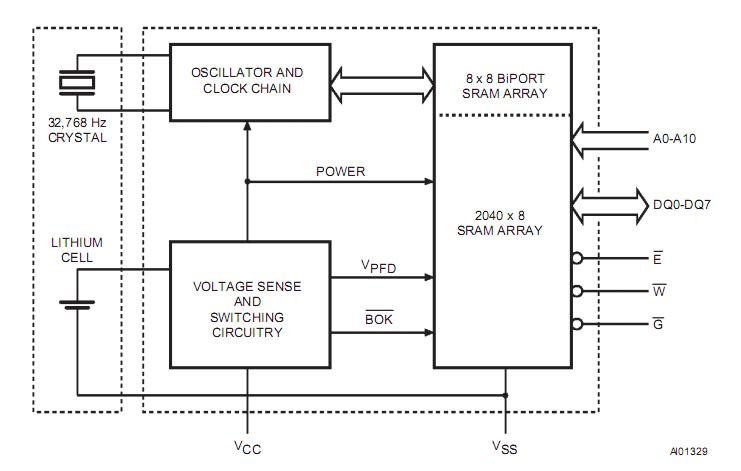 Detail more >>