14430 700mAh - KeepPower li-ion protected 14430 battery
Model: KeepPower li-ion protected 14430 battery
Cell: DLG ICR14430
External protection circuit: yes
Charging voltage: 4.2V
KeepPower li-ion protected 14430 battery
KEEPPOWER is a famous OEM in the China exclusively offering to our valued customers high performance li-ion batteries. As the first factory who only focus on high end lithium battery solution, we are keep sourcing all outstanding li-ion cell in this market.
- The DLG ICR14430 650mAh is used to build this battery, DLG is one of the best lithium cell brands in China
- Protection: Protection circuit designed by Seiko, ICs made in Japan
- Very safe to operate
- Button top
Click here to know brief production process: http://keeppower.en.alibaba.com/custom_page_1/About_US.html

1. Nominal Voltage: 3.7V
2. Nominal Capacity: 650mAh(discharged at 0.2C5mA to 2.75V)
3. Minimum Capacity: 600mAh(discharged at 0.2C5mA to 2.75V)
4. Recommended Charging Conditions
130~650mA charge termination control parameters taper current 10mA at 4.2V
5. Maximum continuous discharge current: 1300mA
6. PCB Protection trip current: above 5A
7. Service Life :300 cycles(≥80% C5mAh)
8. Weight :Approx.18g
9. Internal Resistance: ≤80mΩ
10. Charging Voltage :4.200±0.05V
11. Ambient Temperature Range
Charging: -20~+45°C
Discharging: -20~+60°C
Storage: -5~+35°C
One of the best protected 14430 battery you can find in the market!


1. Low MOQ: It can meet your business very well.
2. OEM Accepted: Please send us your design.
3. Good Service: We treat clients as friend.
4. Good quality: 100% tested in production, mass production will only start after we get your confirmation.
5. Fast & Cheap Delivery: We have big discount from forwarder (Long Contract).
6. Use only genuine Cells.

We take great pride in our work and in the wide variety of products that we offer.
We are experienced in servicing the North American market, European market and Oceanian market.
Please be aware that our production lead times depend on specific items and item quantities.
Our success has been based on our understanding of the market and marketing demands.
That's why we always ensure that every order is delivered on time.
Check below for more information on placing an order
1. Inquiry - Professional quotation.
2. Confirm the price, lead time, payment term etc.
3. Keeppower sales send the Proforma Invoice with Keeppower seal.
4. Customer make the payment for deposit and send us Bank receipt.
5. Initial Production Stage Inform the clients that we have got the payment,
And will make the samples according to your request, send you photos of samples to get your approval.
After approval, we inform that we will arrange the production & inform the estimated time.
6. Middle Production - send photos to show the production line which you can see your products in .
Confirm the estimated delivery time again.
7. End Production - Mass production, you can also arrange the third party Inspection .
8. Keeppower ship the batteries and send you express track number.
9. Order can be say "finish" when you receive the goods and satisfy with them .
10. Feedback to Keeppower about Quality , Service, Market Feedback & Suggestion. And we can do better .

Competitive price
Talk business with factory directly,no more middleman, no more commission.

Fast delivery
Orders shipped from our factory stock directly, big shipment quantity make us enjoy best discount from the express.
Efficient quality feedback system
Work with Keeppower means you are working with our R&D, production department, QC and all team in this company, any problem will resolved in an efficient way.
Flexible customization solution
As the leader of lithium battery solution supplier in China, we have capability to fulfill complicated customized requirements in a swift and specialized manner.
Keeppower deep service
If you are not using us now, we invite you to give us a try. You will enjoy a great "purchasing experience" from our deep service!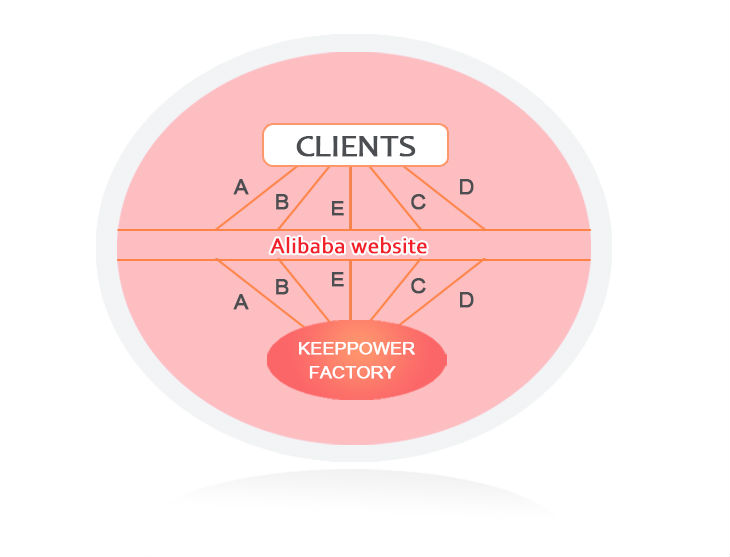 Detail more >>