12mic mirror metallized polyester film
metalized mylar film
This film is specially used for capacitors, power electronics capacitors, film capacitors,DC
capacitor,AC capacitor and so on.
This film is manufactured with high purity, high isotacticity polypropylene.
It has high BDV, excellent mechanical strength.
operation process of the metallized film :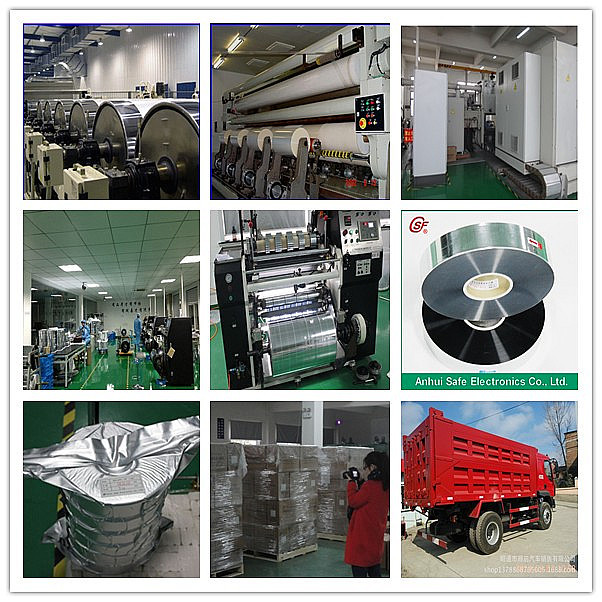 (A)Specifications:
Material:Plastic
Inner diameter: 75mm+1.0mm/-0.5mm
Roll Outer Diameter
For slit widths 25.0mm up:240+10/-20mm
For slit widths 50.0mm up:320+10/-40mm
For slit widths 4.0mm up:155+6/-15mm
For slit widths 10.0mm up:180+8/-18mm
(The specific diameters can be customized )
Note:
1.Unusual specifications for capacitor film can be negotiated and specified
additionally.
2.Customer's own requirement is available for us such as printed OEM logos
and private label or particular size and package style for metalized film for capacitors used.
(C)Type of our products:
1.Al Polypropylene film,Zn-Al Polypropylene film,Ag-Zn-Al Polypropylene film
2.Polyester film
3.High square resistance films
4.Gradient square resistance film
5.Safety explosion-proof film
6.BOPP base film for metalizing
laminating roll hot metalized PET film
Thank you for your precious time to watch our products.
welcome to visit us, we are very pleased to be your guide, show you our Factory and our city ~
No business too small ,No problem too big .
We will try our best to obey your thirst !!
Detail more >>