Uncooked prawn crackers premium quality (25% shrimp)
high quality prawn crackers (25% shimp) , no artificial flavor, artificial color and preservative. crispy, safety, hygiene.
Prawn crackers are white and round with dimension 35 mm,crispy,hygiene, actual tastes of prawn crackers without artificialflavor,color, and preservative.
Product of Vietnam
Standard: HACCP, SSOP, GMP since 1997
EU code: HK129, HK328
HALAL certificate
Ingredients: Tapioca flour, prawn (25%), sugar, salt,MSG (E621), sodium bicarbonate (E300ii), citric acid, garlic
Usage:
1)oil for frying: Soak chips in cooking oil at the temperature of 160to180 degrees and then take out quickly when thechips just turn brown yellow and swelled.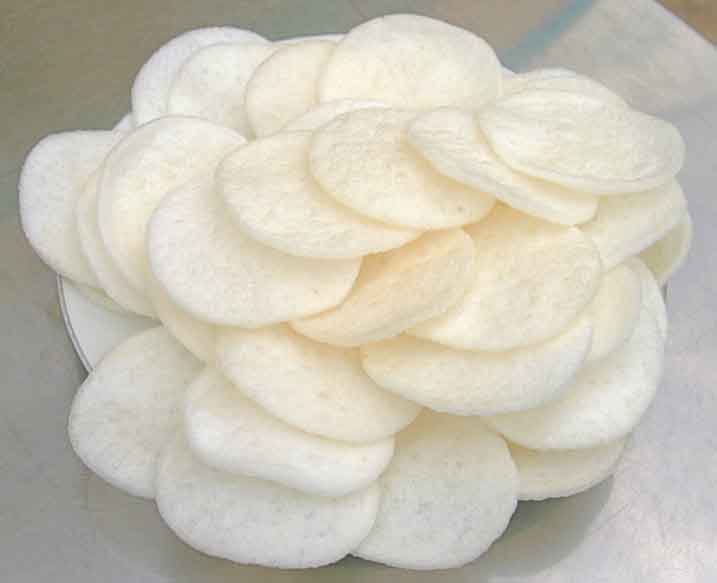 2) to roast on microwaveoven: Use the viba oven at the rate of micro power (capacity 600to1000w) from 40 to 60 seconds. Thisis very appropriate usage to people who are on a diet from fattysubstance.

3) soup cooking: Boil 100g of chips in 3 to 5 minutes.Prepare for 300ml hot soup and then fill into the bowl together with boiled chips, shallot, bean sprouts, pork (orbeef, chicken meat) andother favorite spices for your best serving.
Detail more >>